This is British design at its best. Every detail carefully considered, both inside and out. Together, we've created a watch like no other. It all started with a dream and a sketch by the coast. I'm known for design simplicity, so the reality of my process is discovery, revisions and pairing down until it's coherent and absolute. The outside of the watch is like a piece of art, and the mechanical movement inside is like poetry. This is a rare and handsome, yet reliable and sturdy timepiece - take it with you on your next adventure - time and tide wait for no one.
Bert Fowler, Bert & Buoy
Having been interested in collaborating on a watch design for some time, a chance meeting between Bert & Buoy's founder Bert Fowler and our very own Oliver Goffe, set sail to a new, limited edition timepiece.
During a regular visit to Dartmouth, Oliver happened upon the Bert & Buoy store and knew instantly it was a design match made in nautical heaven. Over the course of a frenetic few moments, Oliver and Bert discussed all things well-designed and considered, and both left feeling inspired.
Needless to say they kept in touch and soon enough the conversation turned to a unique collaboration between the two design houses. Following research and designs trips from Scotland to Devon, not to mention the odd enthusiastic phone call, the clean and contemporary design concept was born.
Bert & Buoy's nautical style fit with our design ethos perfectly; nothing unnecessary, with a simple white dial featuring Bert's illustrated ship motif, sailing over the face above the coordinates of the River Dart itself.
Dartmouth dates back as far as 1147 with castles and forts, secret coves and beaches. It hosts the impressive Britannia Royal Naval College and annual Port of Dartmouth Royal Regatta - which just so happens to be where Bert & Buoy originally launched. More recently, Which? Magazine placed Dartmouth at number two on the list of the best seaside towns in the UK - it's the perfect location for this contemporary nautical brand - so why not take the coast home with The Dart timepiece - a special collaboration between British designers, limited to only 250 pieces.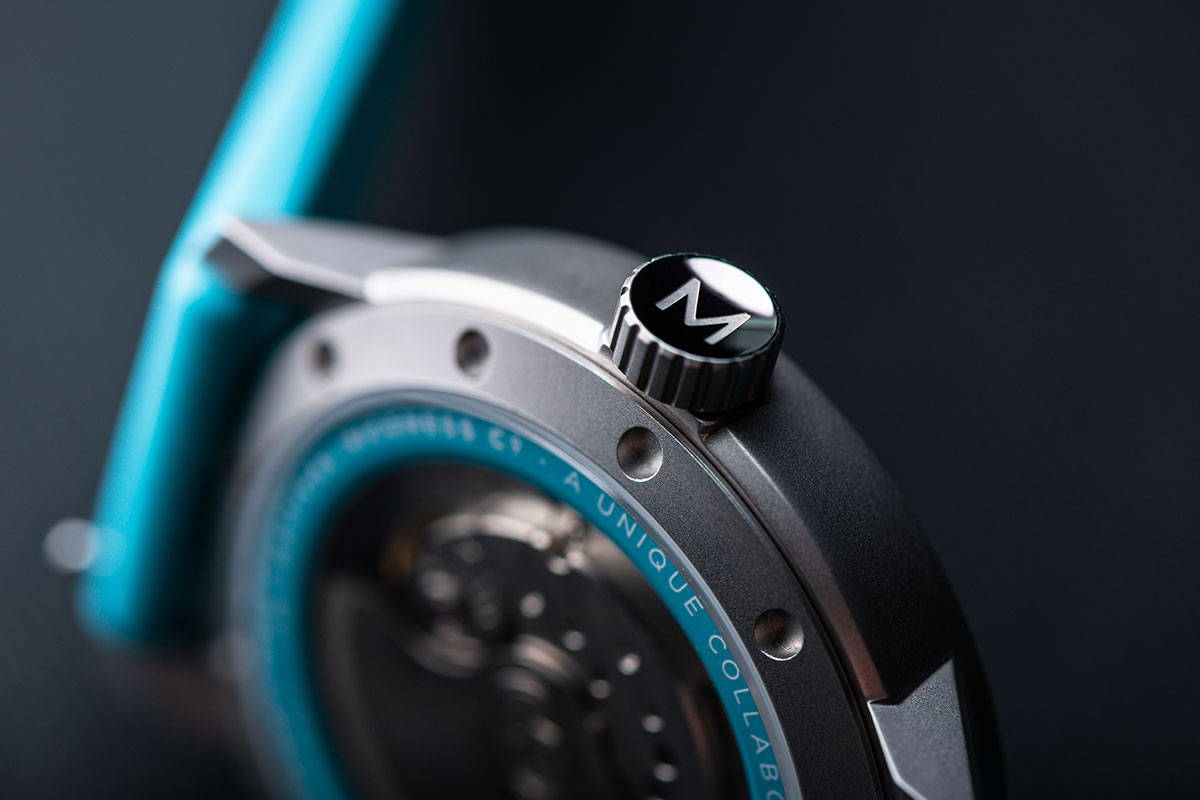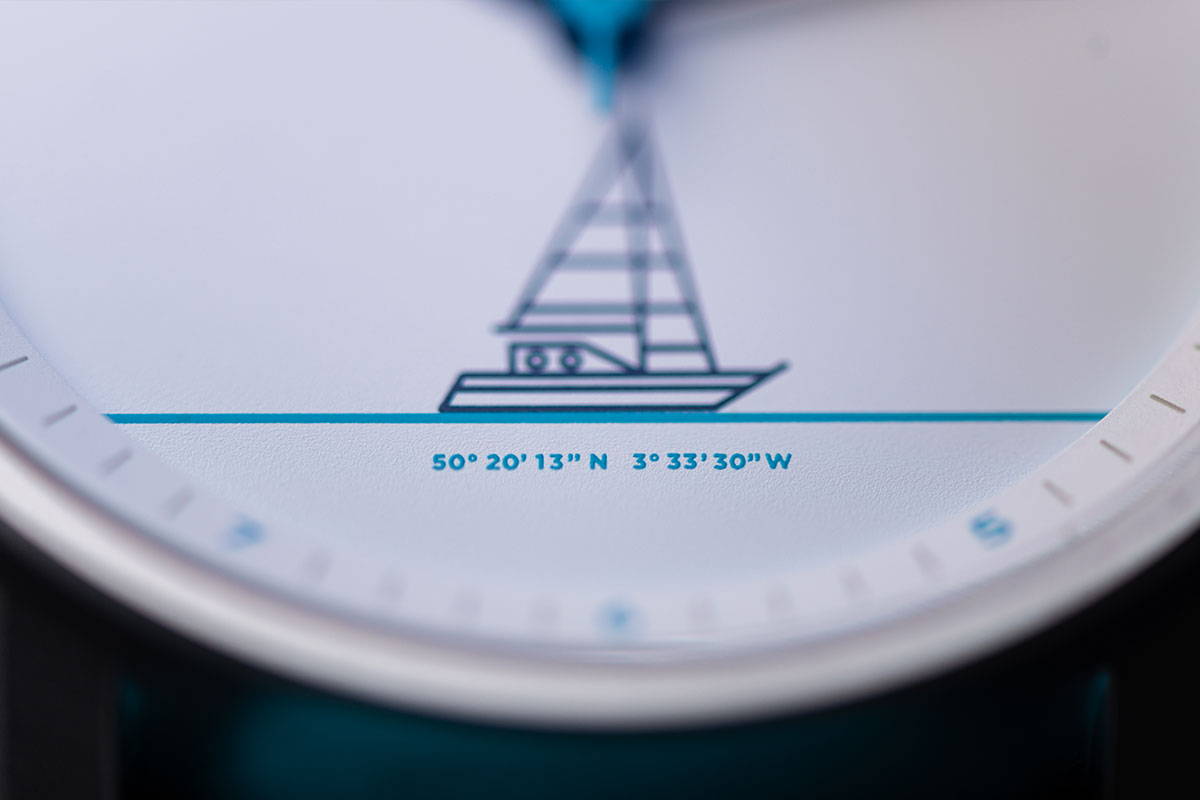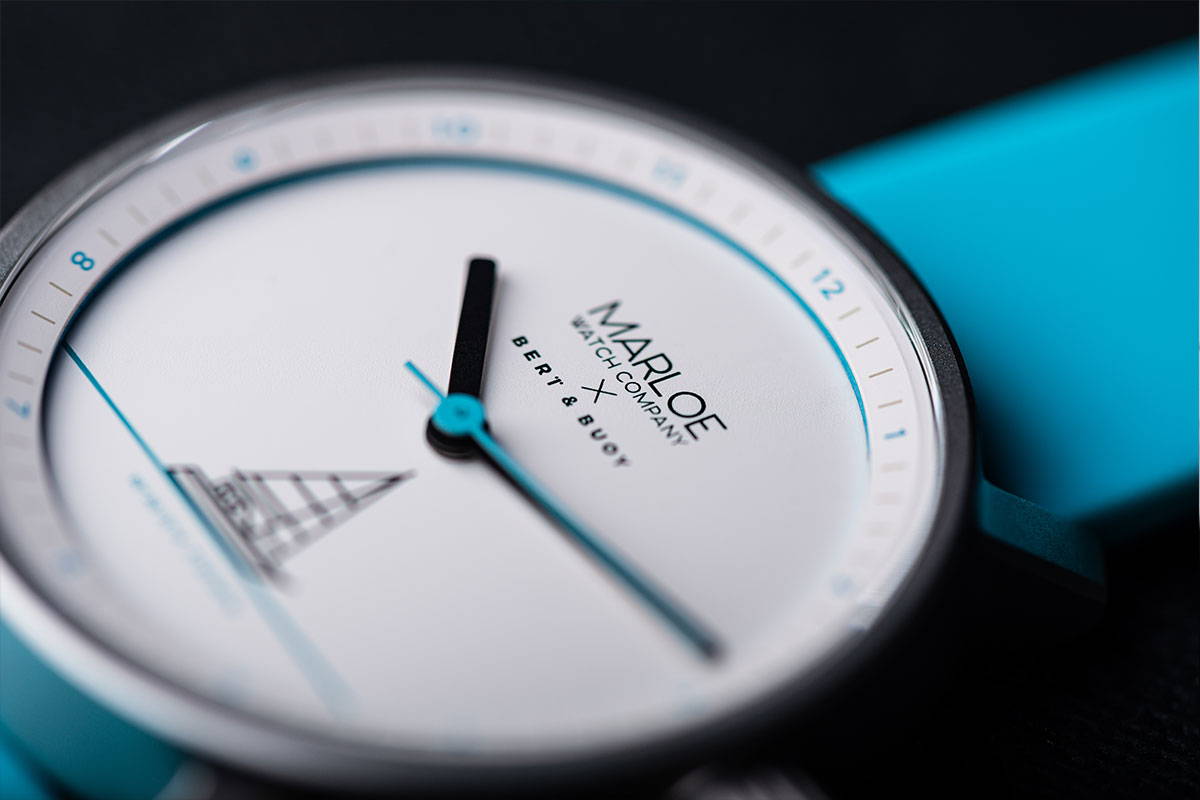 Beauty in simplicity; nothing could be more apt to describe Bert's nautical illustrations and the same is true of our design for The Dart. Using the illustrated ship motif as the centrepiece, we formed a simple set of markings around the upper ring of the dial, leaving the main dial surface free of any distractions. It brings a wonderful clarity and openness to The Dart that, coupled with the ink-line hands, makes time-telling a cinch.
The dial is constructed using 3 layers; the dial surface, flat and spacious, with a slightly recessed colour ring in Bert's vivid aquamarine, and a final chamfered upper ring with 1-through-12 and minute markings, both in that same aquamarine and a lighter grey. It's an exercise in beautiful simplicity.
We like to celebrate the rear of our watches as much as the front - which is why we've created an exhibition caseback on The Dart showcasing the spectacular engineering marvel that is the Miyota 9039, in all its utilitarian beauty. Respected for its solid reliability and accuracy, the 9039 also exposes its beautiful and eye-catching decorations as the rotor swings from side to side.
Surrounding this visual spectacle is a vivid aquamarine ring with a crisp declaration, celebrating the unique collaboration between British designers; a proud moment in our history.
WE DESIGN WATCHES THAT WE'RE PROUD OF, AND SUPPORT THEM WITH ATTENTIVE CUSTOMER SERVICE

Using DHL Express Service

Spread the cost of your payment

Every product quality-controlled by hand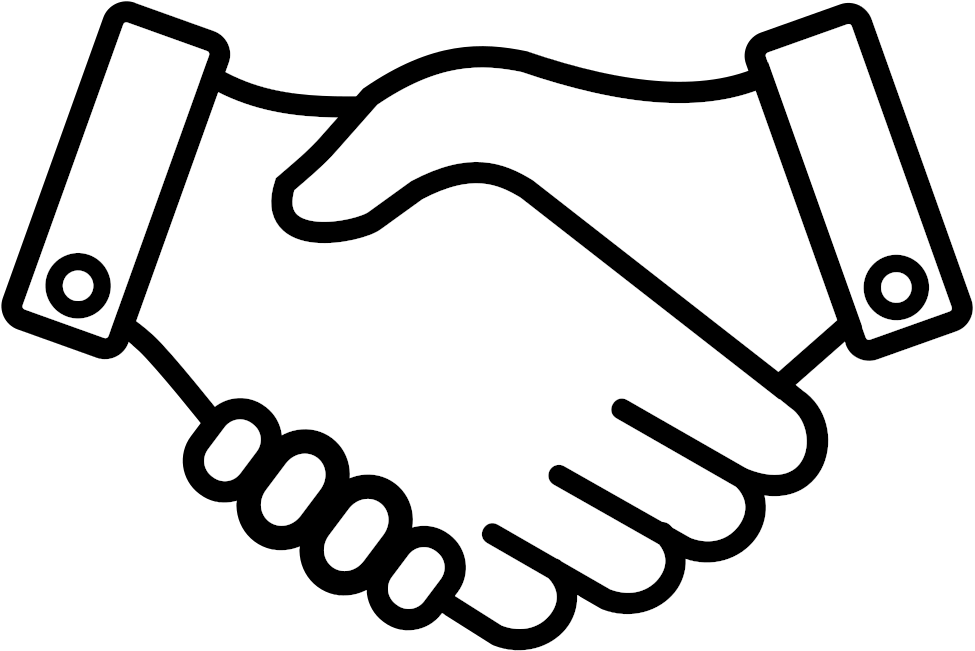 We're always happy to help
HOW MARLOE BECAME AN ESTABLISHED BRITISH BRAND
In 2015, a simple twist of fate brought together the two founders of Marloe Watch Company. Oliver & Gordon were intrigued by design, the slow-living counter culture, and beautiful mechanical watches - within a year, the first Marloe watch was created, and Marloe Watch Company was born.
Marloe design watches that they're proud of, made by manufacturing partners who over the years have also become friends. Honest watches made with care and attention - unpretentious, proven quality.
DON'T JUST TAKE OUR WORD FOR IT

One of our favourite young British brands…
Marloe watches can't be matched for Great British value

Thoroughly reasonable price points

Superb detail without breaking the bank