In the north-west of England lies a mountainous region with breathtaking beauty. The Lake District, with it's valleys, woodlands, fells and lakes is captivating and stirs a hunger for the great outdoors.

Home to some of English literature's greatest and most revered writers and poets, including author William Wordsworth, who wrote of it on many occasions.

"The loveliest spot that man hath found"

Bordered by woods and towering crags, Derwent Water is surrounded by the magnificence of the Lake District - to its west rise the fells of Cat Bells, to the east Friar's Crag. The Derwent takes it's name from this lake as it was on her very banks the concept was born.

The Derwent is a watch designed with nods to a few traditional timepieces whilst offering a more contemporary touch. A diameter of 38mm harks back to the dress watches of the 50's and 60's, with the hi-dome custom acrylic crystal also lending itself to the classic aesthetic. The dial is more contemporary with a subtle domed form leading outwards to an angled chapter ring, which draws the eye in towards the dial. The simple pitched profile hands afford the maximum readability whilst continuing the traditional yet contemporary feel. A quick peek at the case-back and you'll find a porthole displaying the balance wheel smoothly oscillating back and forth, keeping accurate time whilst offering a quick visual indicator of your Derwent's current power status.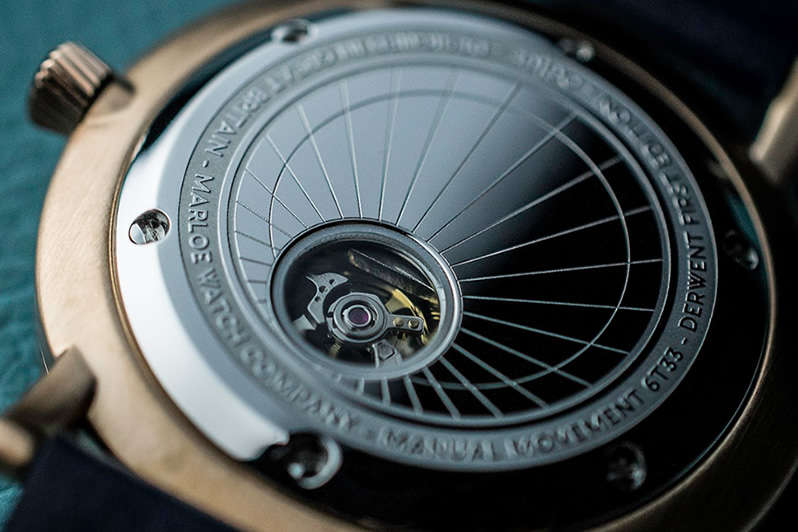 We use hand-wound mechanical movements in all our timepieces. The beating heart of the Derwent is the harmonious Miyota 6T33, which was selected not only for its reliability, but also for it's incredibly accurate time keeping. To care for your new movement please see our
Manuals
.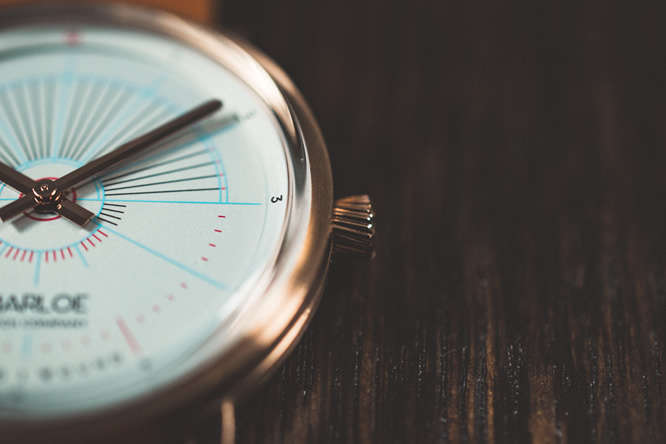 Each of the four Derwent dials take inspiration from great British designs - from 17th century nautical charts to a traditional British pressure gauge - and are subtly domed to add a bit of extra dynamic. Each dial variety is paired to a polished steel or rose-gold PVD case and hand set. All the dials are finished with a pearlescent granular paint to catch the light and bring a shimmering quality.