SOLENT TIMER collection
Our first ever dual-crown watch with internal rotating bezel and exhibition caseback
SENTINEL OF THE SEA
Just like its predecessor, the Solent Timer was born on the water. In designing the Timer our research revealed the criterion of robustness, an attribute that all nautical furniture seems to adopt; be it the hull of a yacht, the bob of a buoy or the granite-flared base of a lighthouse - each has an underlying seam of strength.

The world of seafaring is steeped in elegance and fortitude, stoicism and bravery. The Solent Timer reflects this; our own sentinel of the sea.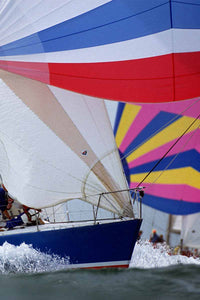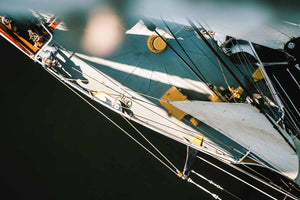 A SKILLED SAILOR
The Timer's caseback features a chapter ring with the proverb coined by President Franklin D. Roosevelt: "A smooth sea never made a skilled sailor"
During our research, on and off the water, we spoke to many a sailor. The Timer is a testament to the unwavering precision and unrivalled style of skilled sailors, embodying their expertise and unyielding dedication to the art of navigation.
NEW YET FAMILIAR
Iterative design inherently produces things that look familiar yet still feel new. We've kept many design aesthetics from the original Solent collection whilst making numerous subtle improvements.

The strong case design, bespoke and aggressive, remains, and the matte case finish gives way to a fully polished set. The grippy crown is also still present, but now there are two of them. Anti-reflective coatings on the crystal better suppress reflections and boost clarity, whilst the dials have been completely redesigned from the ground up.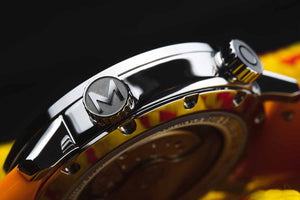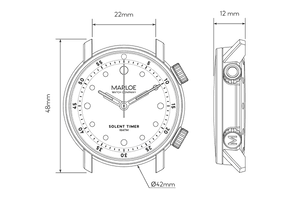 SPECIFICATION
- 42mm diameter x 12mm depth
- 22mm strap width
- Nautical bespoke designed case
- Sapphire crystal with dual side anti-reflective coating
- Internal rotating bezel
- Luminous hands and dial marks
- 72g
- 10 ATM
- Miyota 9039 automatic mechanical movement
- 28,800 bph
- 24 jewels
- 40+ hour power reserve
- Accuracy of -10 ~ + 30 sec/day
- 2 year warranty
HOW TO USE YOUR SOLENT TIMER
"
One of our favourite young British brands, Marloe watches cannot be matched for great British value.

"
"
Marloe caught our eye for two reasons - one, their care and craftsmanship, and two, their thoroughly reasonable prices.

"
"
Superb detail without breaking the bank.

"