Not a day goes by here at Marloe Watch Company where we don't think about, discuss or revisit our retired ranges.
From customers requesting the manufacturing of 'just one more' Lomond Vintage Coffee or Derwent Sundial, to Gordon re-imagining a crown design for our in-development line, to taking a fond moment to glance down at the watches on our wrists; the watches that have been and gone from our online world remain with us, in spirit if not physically.
There has been a lot of demand for an archive of sorts; a place where Marloe customers can come, whether they have just recently discovered our company or are long-term friends, to explore the predecessors to the ranges we currently sell. With Marloe watches sometimes arising on the secondary market, it's also helpful for buyers to have a place to come and explore the spec of these pieces, as demand grows and they quickly become collectors' items.
And so we open the doors to the Marloe Watch Company Archives. Whether you're keen to learn a little more about the watch on your wrist, or the watch you're waiting for on the secondary market, or whether you're simply curious to see how our story has evolved over the years through our designs; you're in the right place.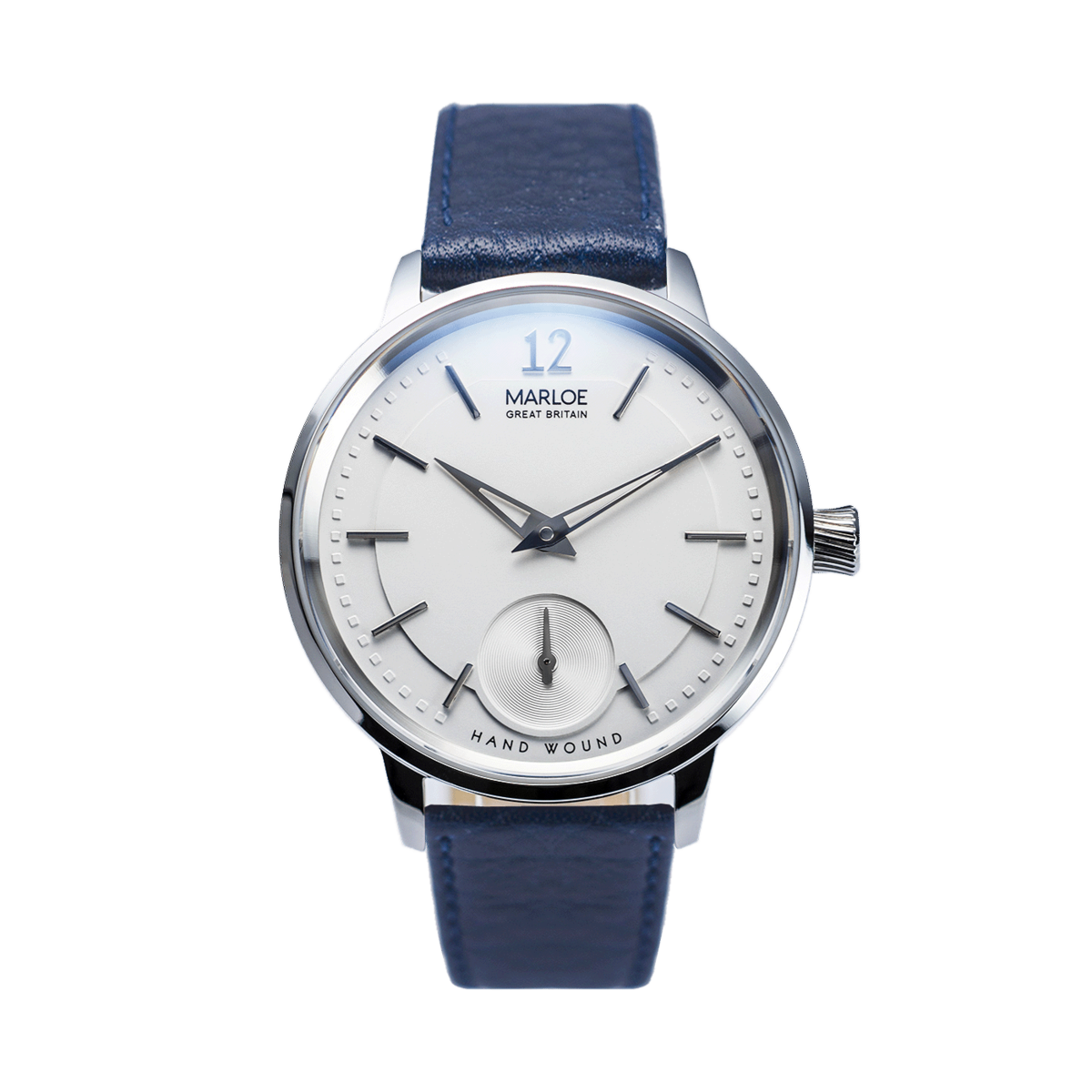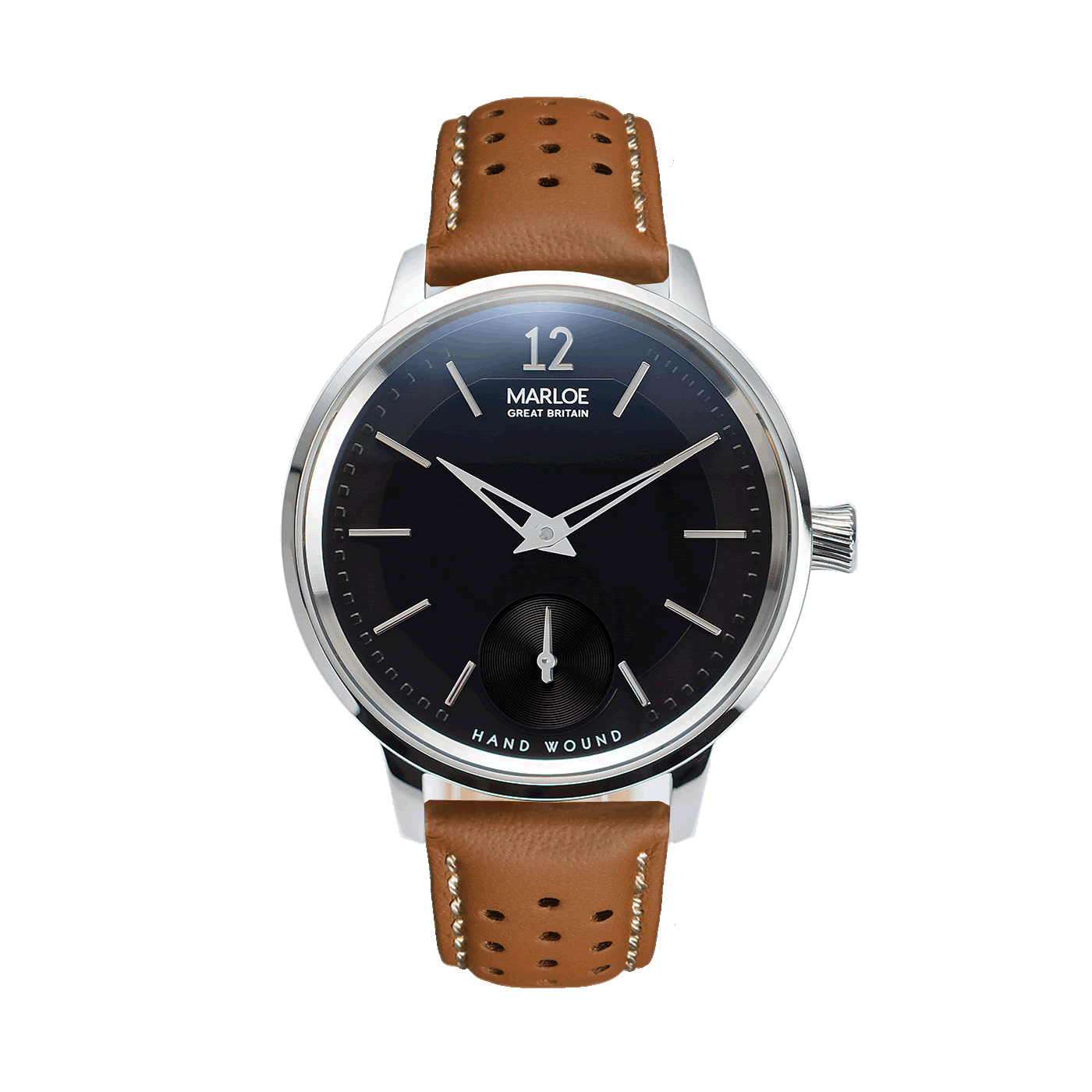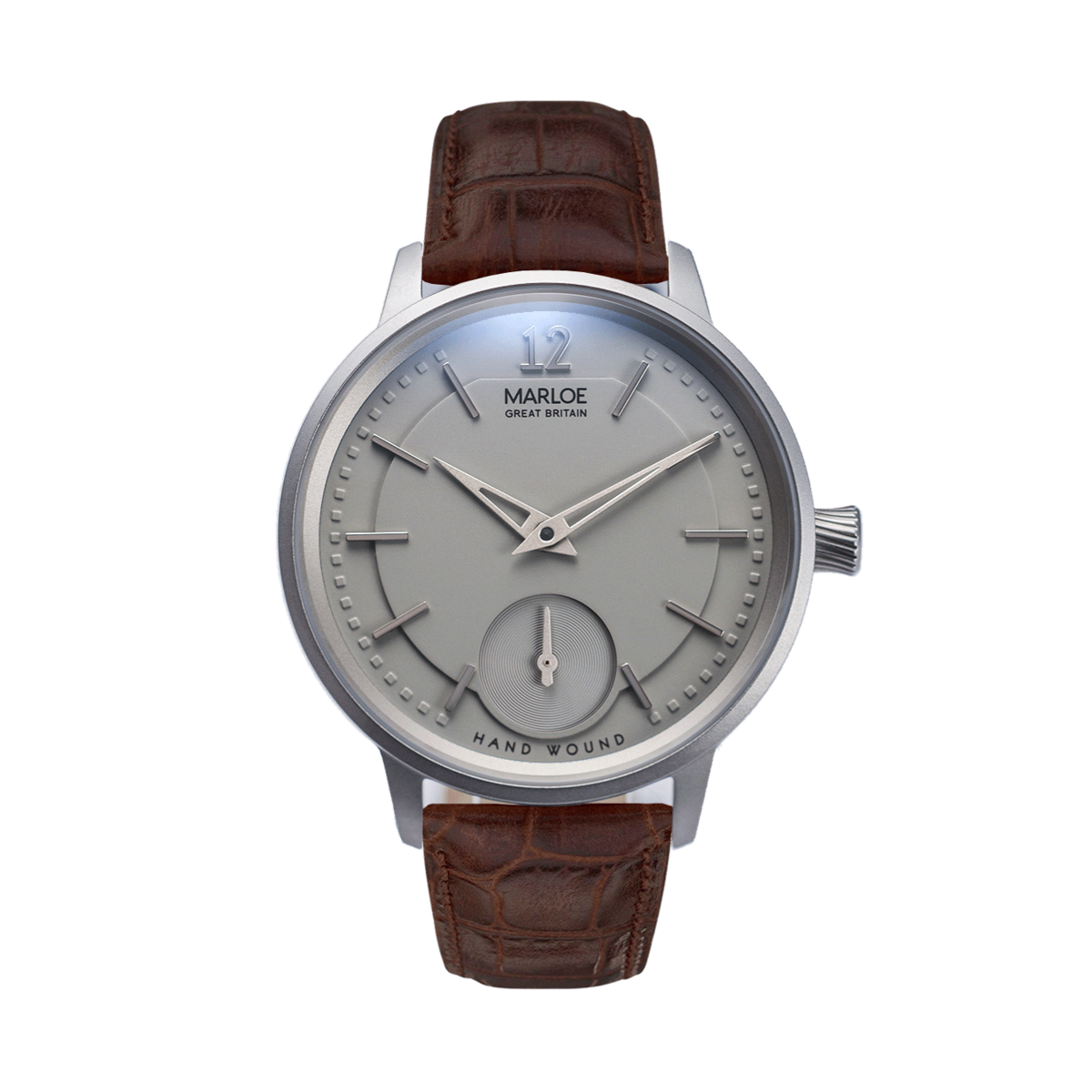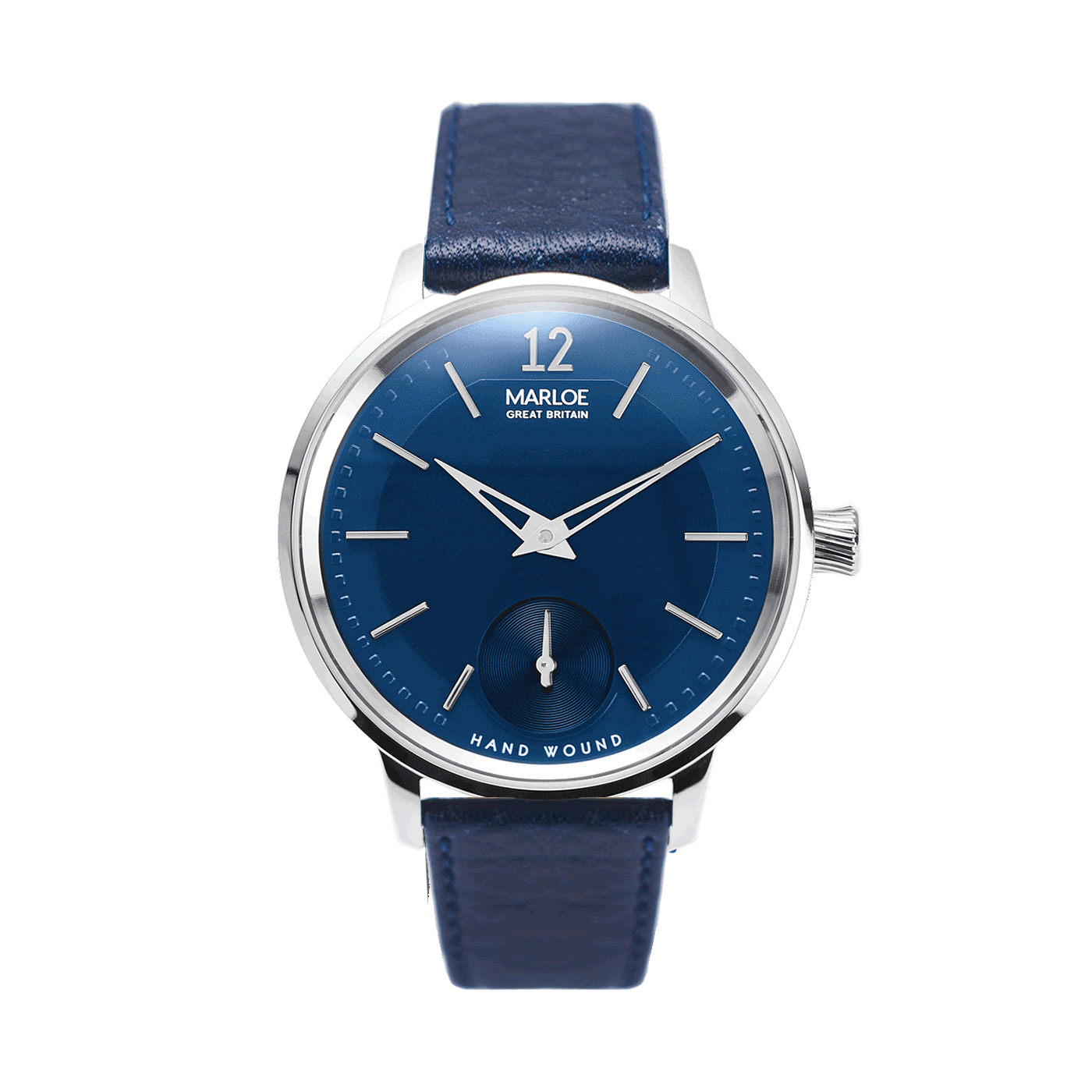 Our first timepiece, the Cherwell, was inspired by the prestigious university city of Oxford and takes its name from the River Cherwell, which meanders through this City of Dreaming Spires.
The Cherwell is the embodiment of countless hours spent poring over every tiny detail, and we were delighted with the result: a mechanical machine, worn on the wrist, powered by you, to display the passing of time - a feat of engineering marvel that we believe should be celebrated.
With the Cherwell we strived to create the archetypal classic wristwatch, complimented by contemporary touches. As the Marloe Watch Company brand has grown, this fusion of tradition with contemporary design and innovation has remained at the centre of what we do.
Every element of the Cherwell's design has been carefully considered - a robust and accurate manual wind mechanical movement; a slim yet modern sized beautifully designed custom case; a large sub-dial displaying the sweeping seconds ticking by; and the bespoke crown designed to remind the wearer to turn it and keep that heart beating.
We launched the Cherwell on Kickstarter in January 2016 ; just two guys, one a designer and one a marketeer, hoping to create something beautiful - but uncertain as to how the public would receive our dream. We needn't have worried. We more than surpassed our target, enabling us to release four models; the Black, the White, the Grey and the Blue – with the Blue reserved exclusively for Kickstarter backers.
Our first watch was a true celebration of the marvel of hand-wound timekeeping, with its exhibition caseback flaunting the SeaGull ST36 movement within. Surrounding this visual spectacle is an inverse engraving with the words of renowned British author, poet and scholar, C.S. Lewis. Lewis served on the English faculty at Oxford University and, along with close friend and fellow novelist J.R.R. Tolkien, was active in the informal Oxford literary group; the Inklings. A fitting tribute to the city where it all began.
43mm diameter, 12mm depth
Sea-Gull ST36 hand-wound mechanical movement - 21,600bph
Accuracy of +25/-15 seconds per day
Polished bespoke case (Grey Dial had Bead-Blaseted Matte case)
Double-domed sapphire crystal with AR coating
Exhibition case-back with perimeter engraving
Multi-layered dial
72g (with strap)
20mm lugs
3 ATM
special edition cherwell - 6 white & 4 black
In August 2018 we released 10 celebratory Cherwell timepieces which were created to celebrate the third anniversary since its inception. We made six white dial and four black dial Cherwells, featuring an exclusive, highly decorative movement with blued screws and Côtes de Genève patterned plates. These Special Edition watches came with a sequentially numbered certificate of authenticity.
These Special Edition Cherwells sported a Navy Taiga Leather Strap with our new crown icon buckle, and matching hand-made navy leather travel case.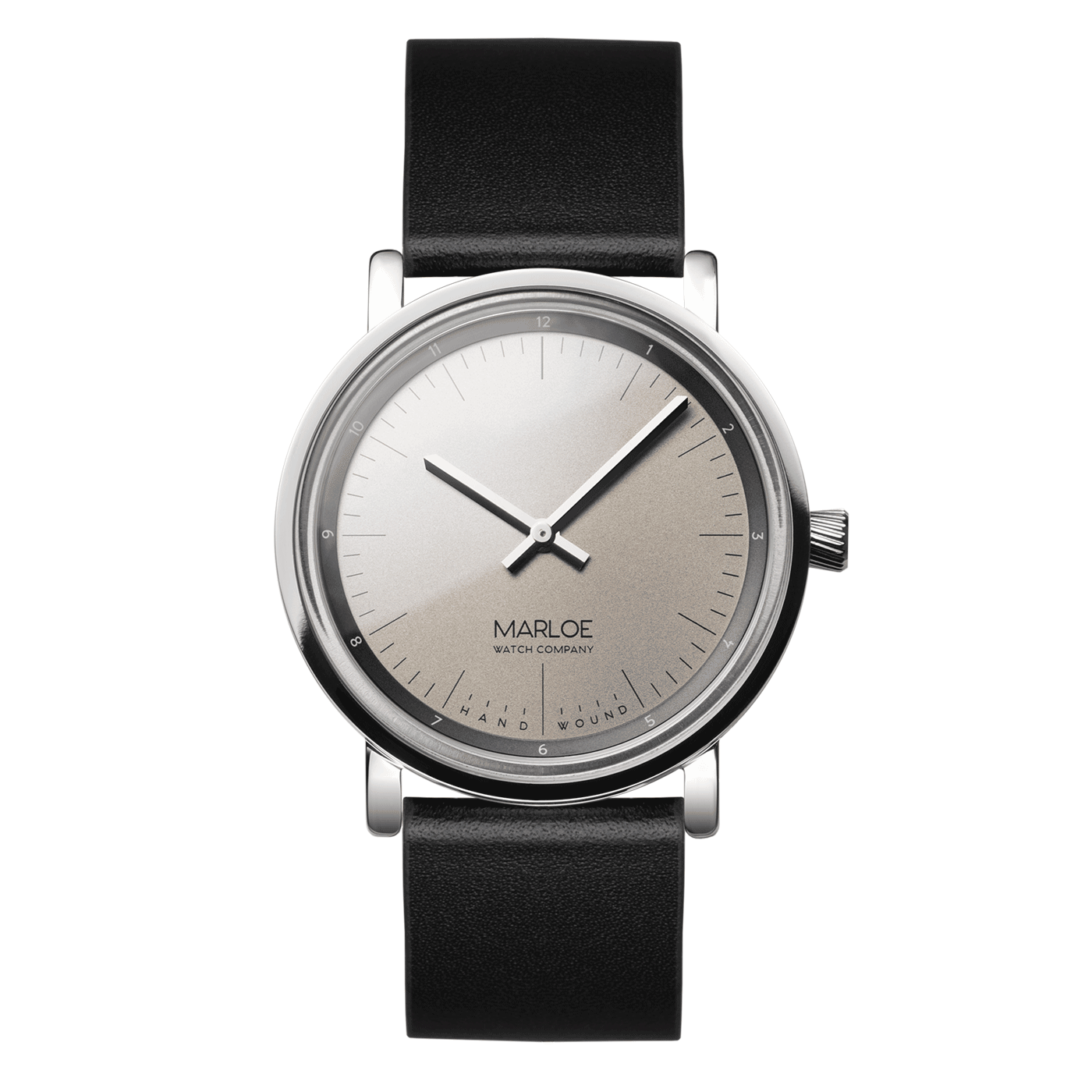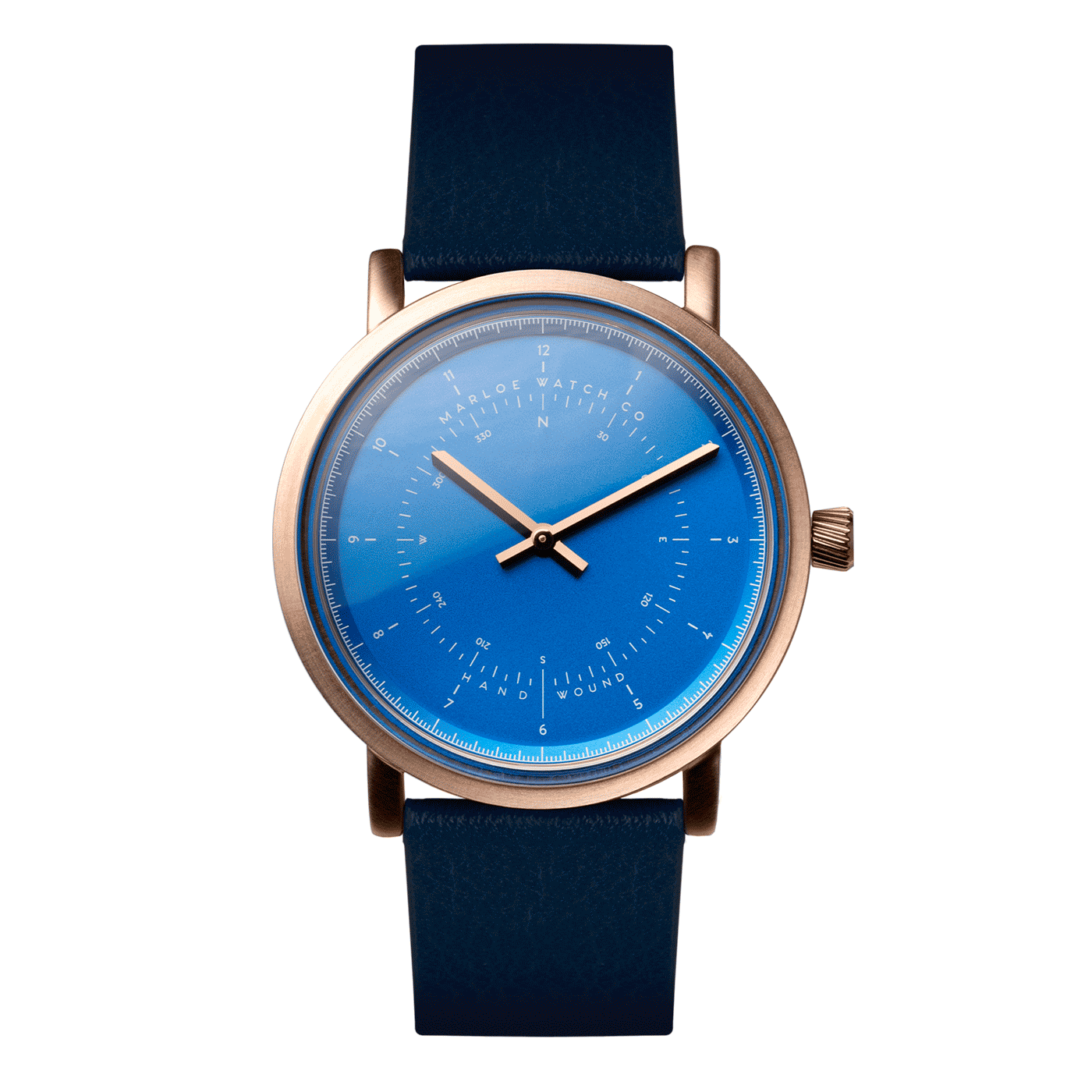 In the North-West of England lies a mountainous region of breathtaking beauty. The Lake District, with its valleys, woodlands, fells and lakes is captivating, and stirs a hunger for the great outdoors. It was home to some of English literature's greatest and most revered writers and poets, including author William Wordsworth, who wrote of it on many occasions;
'The loveliest spot that man hath found'
Bordered by woods and towering crags, Derwent Water is surrounded by the diverse magnificence of the Lake District – to its West rise the fells of Cat Bells, to the East, Friar's Crag. The Derwent takes its name from this lake, as it was on her very banks that the concept was born.
Harking back to the dress watches of the 50s and 60s, the Derwent features a hi-dome custom acrylic crystal. Most watches of this era had solid case-backs, but the Derwent Classic offers a small porthole displaying the balance wheel smoothly oscillating back and forth, another contemporary element bringing this timepiece into the 21st Century.
The Derwent range was comprised of four models; the Sundial, the Classic, the Gauge, and the Nautical.
Our Classic version of the Derwent is born out of our love for traditional British watches of the 50s and 60s, with hi-dome acrylic crystals and small cases. We've added a few contemporary touches like a subtle domed dial leading outwards to an angled chapter ring and simple pitched profile hands for maximum readability, but the classic aesthetic remains.
An abandoned pressure gauge found in the mud on the banks of Derwent Water sounds like an unlikely source of inspiration, but that's where the design for the Derwent Gauge was born. Taking its blue and red palette from the traditional design of the industrial instrument, the Derwent Gauge features polished pitch-profile hands which provide instant readability among the fine, intricate lines of the inner and outer second, minute and hour tracks.
Inspired by British designed nautical charts of the 17th century, the Derwent Nautical has similar markings to that of a compass. We have modernised the look and feel with white markings set on a radiant, metallic blue dial, complemented with a rose-gold case and matching hands. An interesting feature of this timepiece is that it is the only timepiece from Marloe Watch Co. that does not feature our logo - as we wanted to retain the style of the 360 degree dial.
This timepiece is a contemporary take on the oldest means of reading the time; the sundial. Taking its red and blue details from the Countess Pillar, the Derwent Sundial features only hour markings, as did its ancestors, but gives small indicators of the minutes as they pass to bring the design back to present day. Delicate rose gold pitched-profile hands sweep their way around the fine detail lines of the dial, tying together with the rose gold case which gives this watch its warm glow.
38mm diameter, 9.3mm depth
Miyota 6T33 hand-wound mechanical movement – 28,800 bph
Accuracy of +40/-20 seconds per day
Stainless steel case
Box profile acrylic crystal
Porthole case-back with flat mineral crystal
53.2g (with strap)
20mm lugs
3 ATM
the lomond chronoscope collection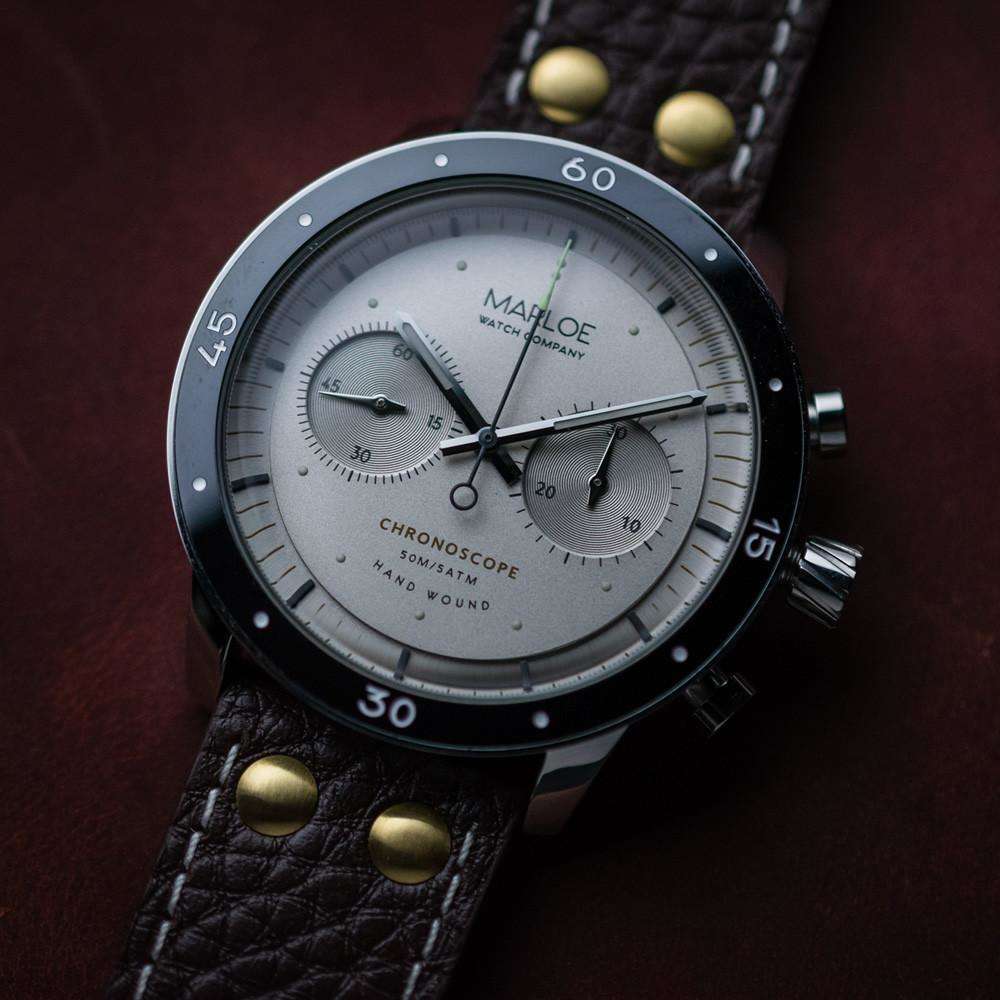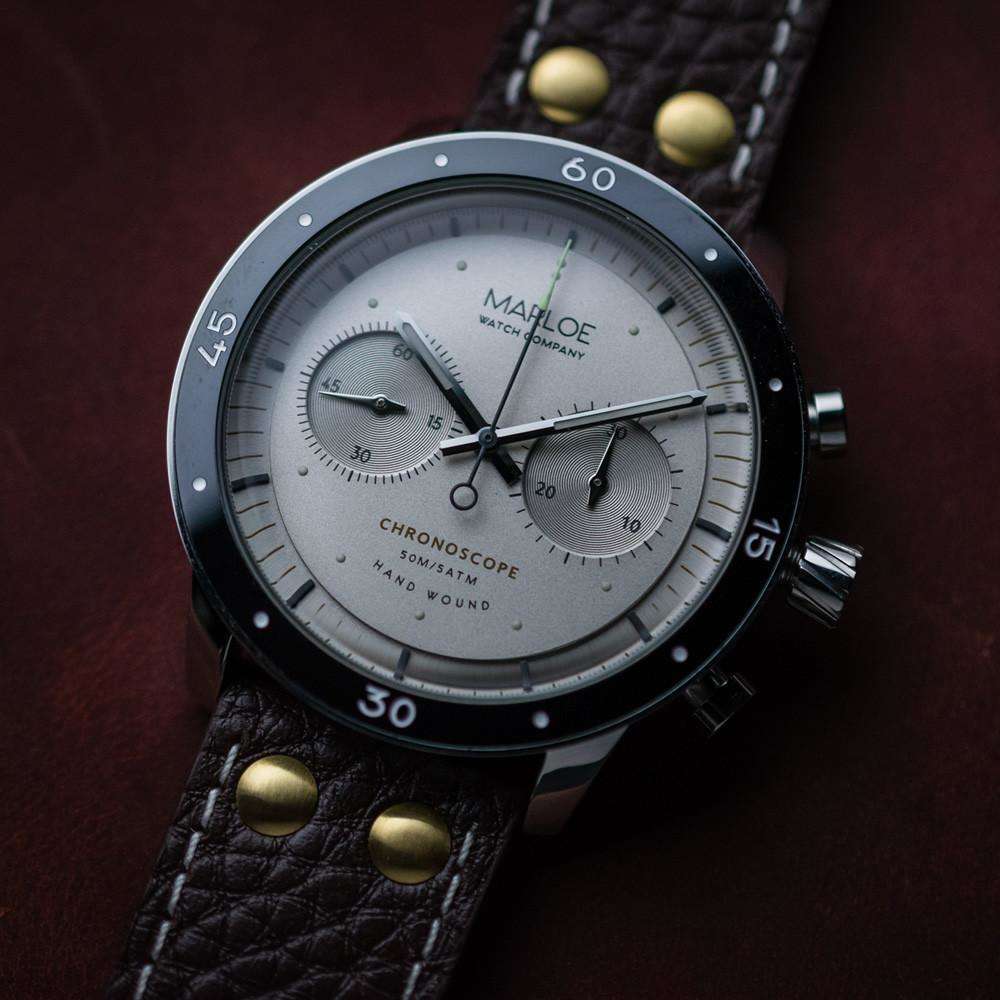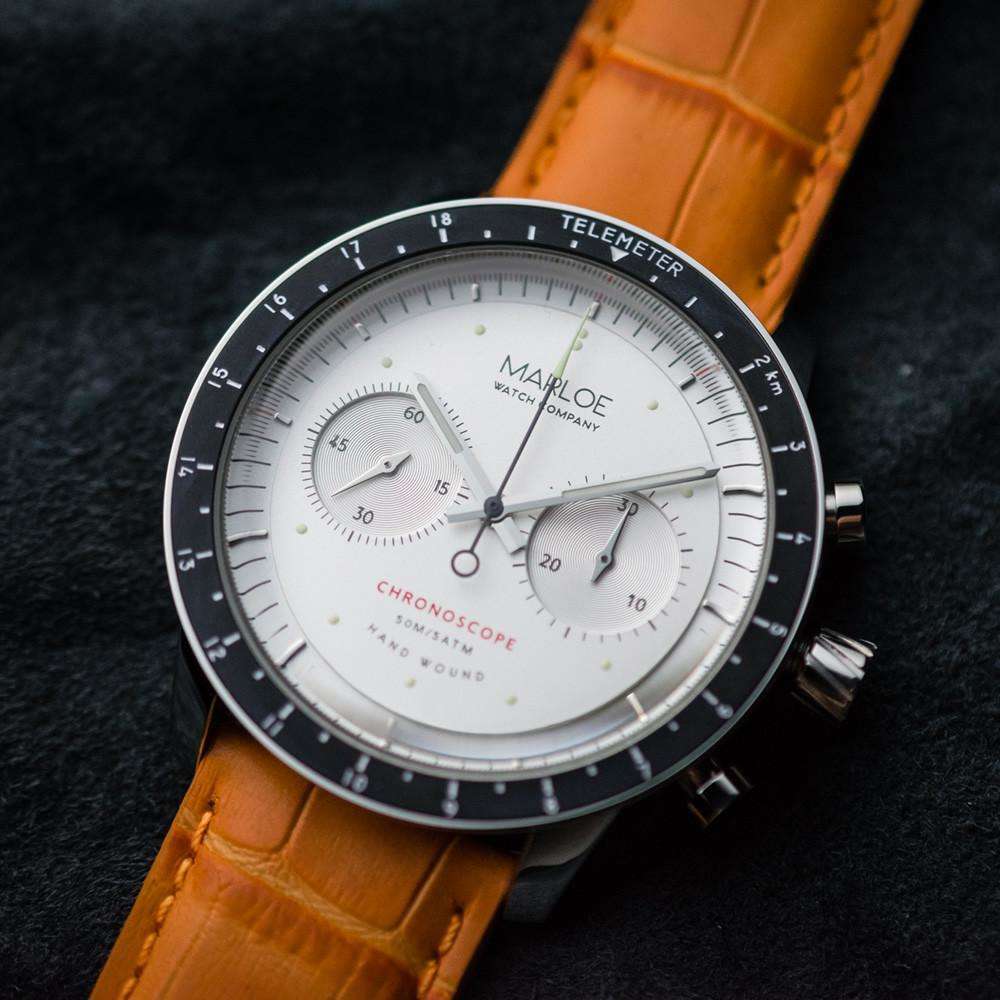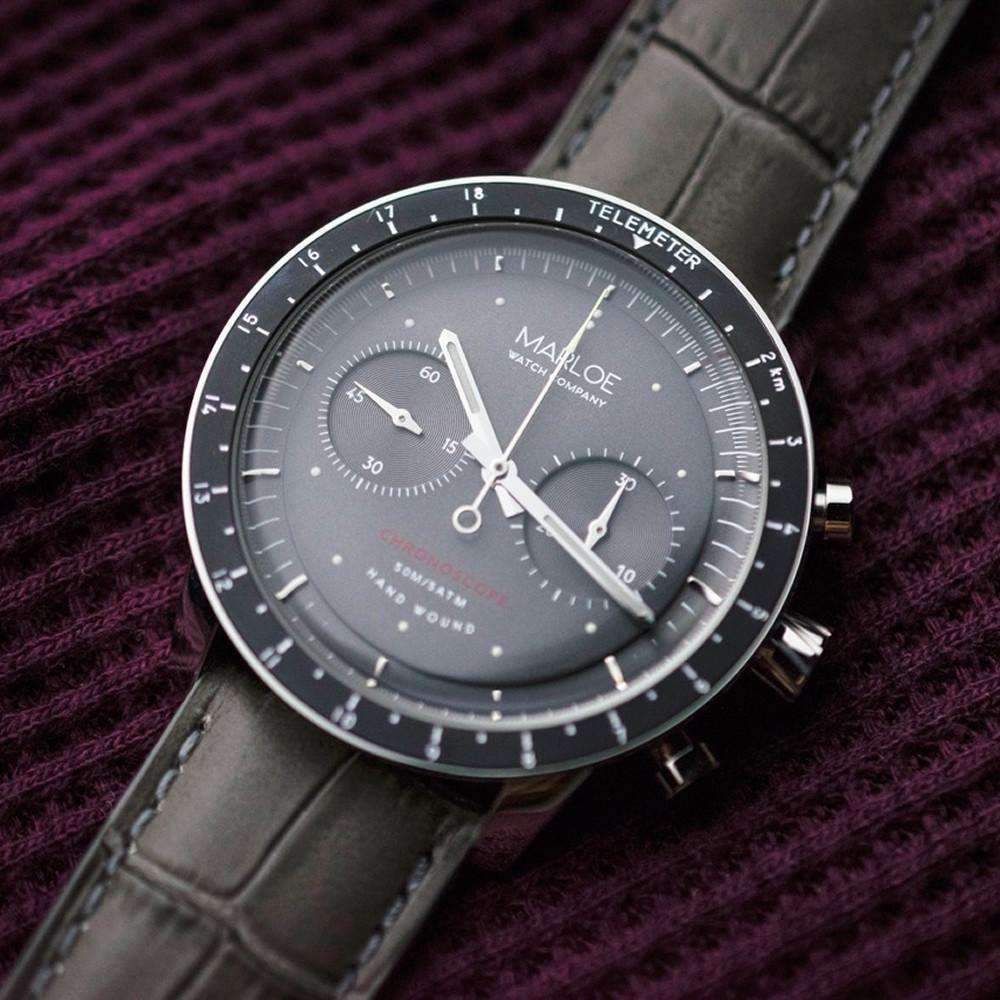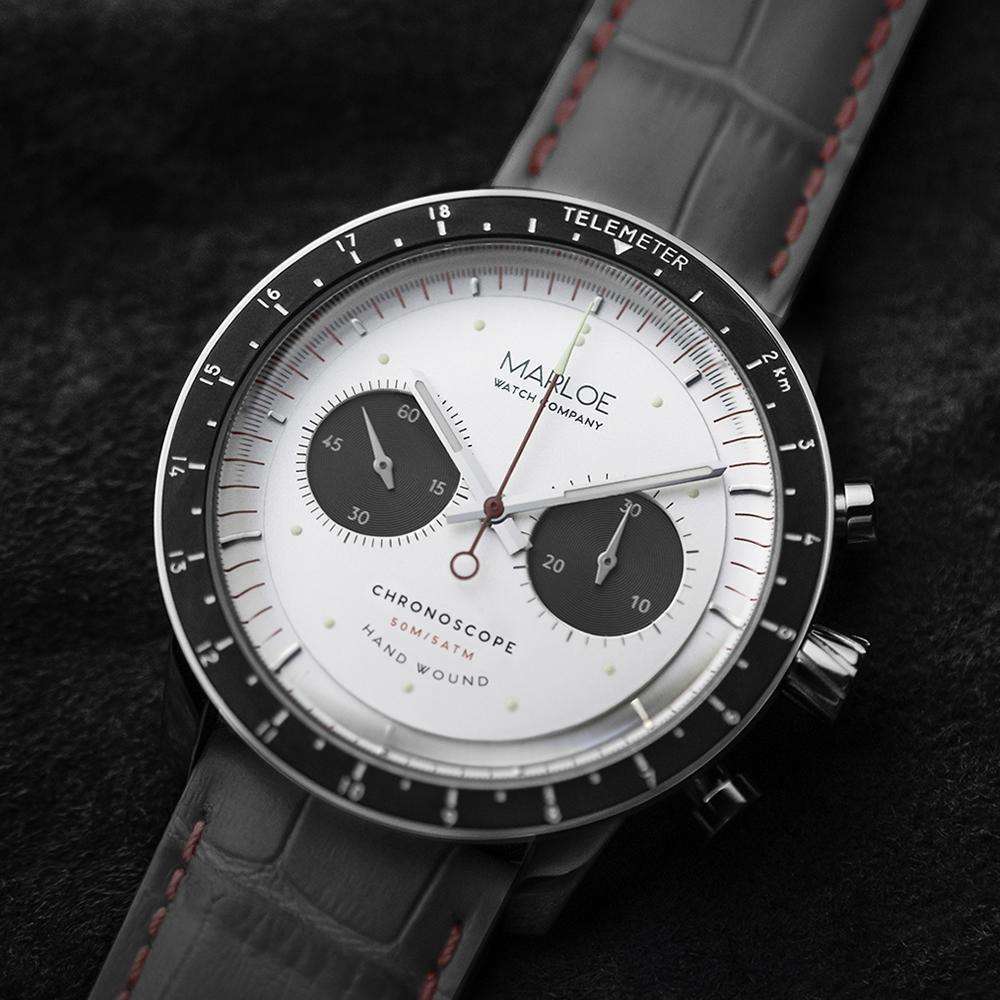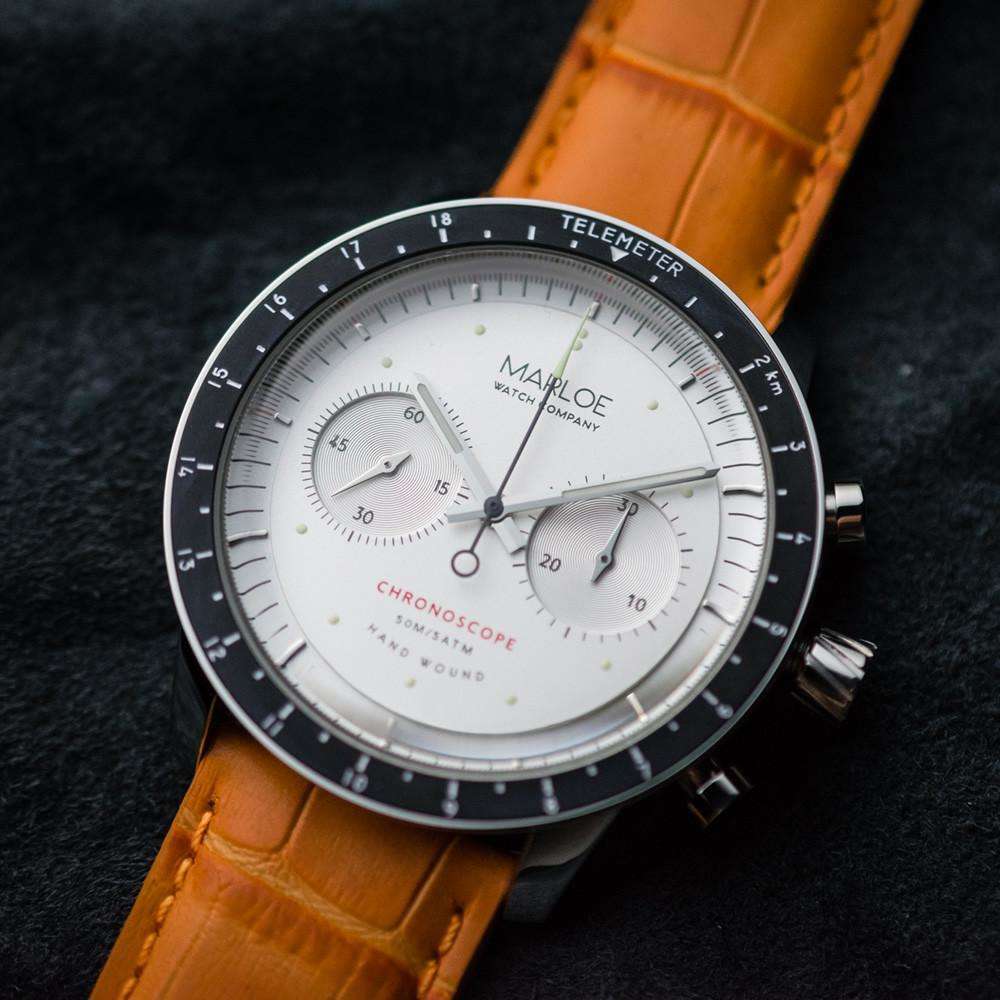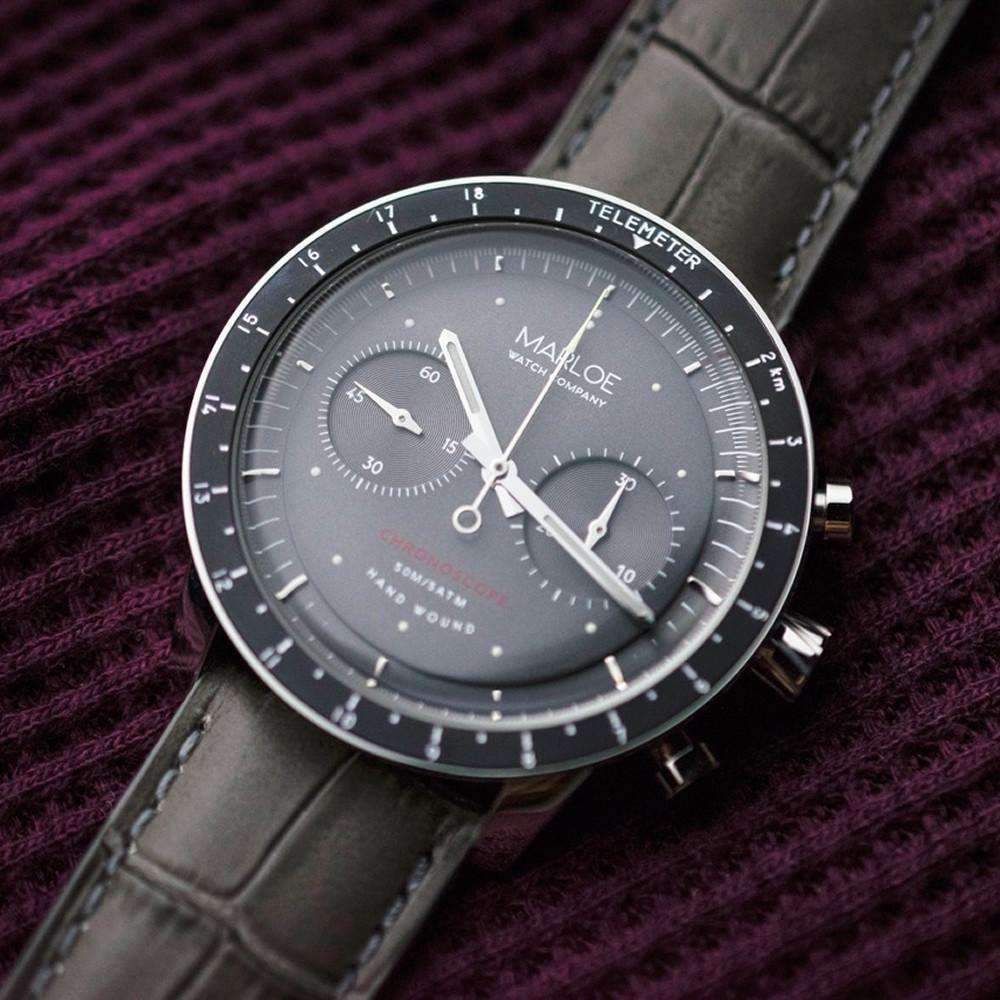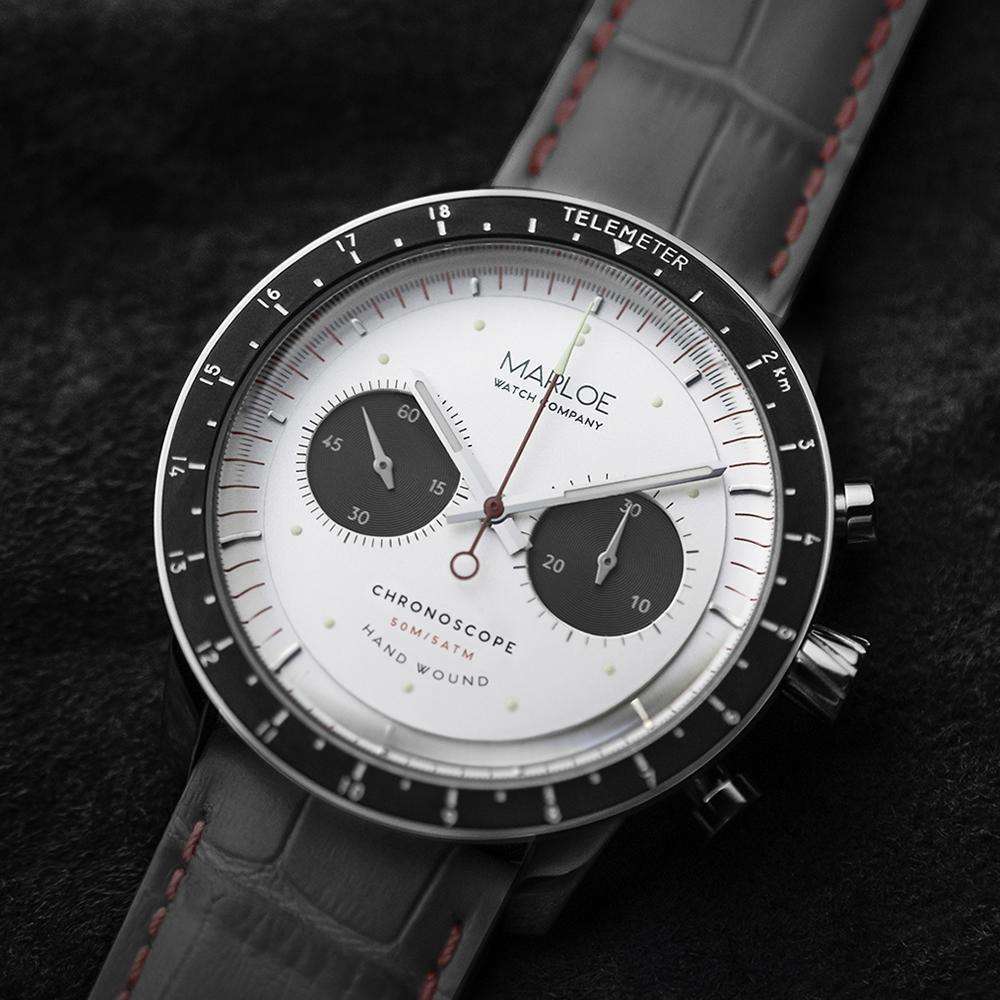 We love hand-wound movements. They are the very essence of Marloe Watch Company and the slow living culture we strive for. The Cherwell was a success both in terms of the Kickstarter campaign, and in connecting people in a new way; by bringing more interaction with their time and in doing so, understanding how better to use it. For the Lomond Chronoscope, we wanted to encourage that same connection, while offering something a bit more contemporary. And so, we turned again to Kickstarter; and once again we weren't disappointed with the response.
The Lomond is named after one of Scotland's most famous Lochs which lies across the Highland Boundary Fault, considered to be the boundary between the lowlands and the highlands of Scotland. Loch Lomond is a gateway to the Highlands, and in-turn the Lomond watch was a gateway to the future for Marloe Watch Company. It expanded the growing range of timepieces, which by now included the original Kickstarter campaign's Cherwell and the new, smaller diameter Derwent, and continues to be one of the most highly sought-after ranges within our collection.
We wanted to create a timepiece with a foot in both the traditional and the contemporary; with a strikingly unique yet reassuringly familiar design. This was a more complex mechanical timepiece, offering both accurate timekeeping and time measurement, therefore the design needs to reflect the requirement for additional information whilst remaining true to our core belief; essentials only, clutter free design.
The Lomond Chronoscope came in 5 colour-ways, split into Classic and Vintage aesthetics. For the Classics there was a White, a Grey and a Panda dial, all with a Telemeter scale matt ceramic bezel. For the Vintage models, there was a Coffee and a Vanilla dial with a simple 60 second scale polished ceramic bezel.
43m diameter x 11mm (13.65mm to crystal zenith)
22mm strap width
Ceramic bezel insert - engraved and paint filled
Custom profile high-dome acrylic crystal
Exhibition case-back
Seagull ST1901 column-wheel manual mechanical movement
21,600 bph
30-minute Chronoscope function
5 ATM / 50M water resistance
Double o-ring crown construction
C3 Superluminova
ONE OF A KIND LOMOND VULCAN
To produce an exclusive one-off timepiece, that has never been made before or will again, had always been a dream of ours. We decided to run a prize draw, for one lucky customer to win a one-off Lomond Chronoscope.
This Lomond, named the Vulcan, was inspired by the colour scheme of the British Avro Vulcan jet. Gordon designed a unique dial, and we fitted it to our bead-blasted Lomond case with its matte ceramic Telemeter bezel and a set of polished hands. The result was quite remarkable, as was the resulting response we received to our prize-draw.





Marloe Watch Company is an independent designer and producer of wristwatches, based in Perth, Scotland.
Taking their name from the town of Marlow on the River Thames, the company is built upon two key values, rooted deeply within the founders' lives; honesty and integrity. Marloe Watch Company ensure that these values are at the heart of everything they do, and this, paired with a passion for design and tradition, inspires the creation of beautiful watches powered by mechanical movements.