A Dream Realised
When you think of great British sailors, the names Chichester, Knox-Johnston and Cowper come to mind. But one man quietly goes under the radar - Alec Rose, a fruit merchant from Southsea, single-handedly raced across the Atlantic in 1964 before achieving his life's ambition to sail around the world. 
His is a story of a dream realised through ambition, with no sponsorship or financial gain, and in turn becoming inspiration to millions of people. A story that inspired the Solent.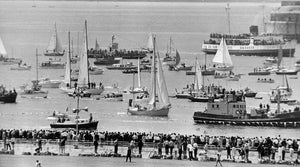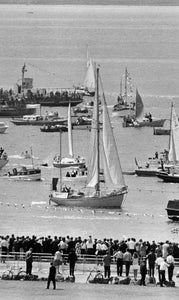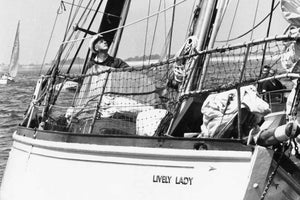 SHOESTRING SAILOR
In 1967, Sir Alec set off from Portsmouth and sailed down the Solent strait, out into the English Channel and onward around the world. 
On the 4th July 1968, 318 days after bidding farewell to his wife, Sir Alec arrived in Portsmouth to a hero's welcome - 250,000 people had amassed to welcome him home. 
He was given the gold-standard celebration-tour, fine-dining and fame for being the "Shoestring Sailor". He was knighted days after his return and given Freedom of the City of London - prize indeed for a worthy sailor. 
PORT SOLENT RESTORATION
Sir Alec Rose and Lively Lady epitomizes the spirit of adventure. One man, one boat, one world.
Lively Lady is now back in Port Solent and is currently undergoing a rebuild and renovation so she can sail around the world again. We'll be supporting the Lively Lady Project in bringing her back to life, with proceeds from the sale of every Solent timepiece being donated to the restoration and upkeep project. 
Thank you for your support.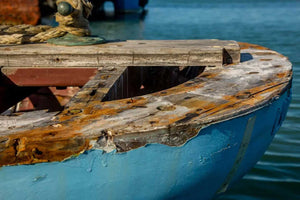 "
One of our favourite young British brands, Marloe watches cannot be matched for great British value.

"
"
Marloe caught our eye for two reasons - one, their care and craftsmanship, and two, their thoroughly reasonable prices.

"
"
Superb detail without breaking the bank.

"